Welcome on the Leiden University Weblog.
To login choose login on the right side of this screen.
For our login authentication we have an agreement with SURF Connext. If you see the following screen: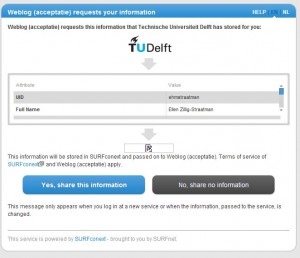 Please accept the sharing of information.
Guest users should use the 'Login met Leiden gast account' button. If you experience problems logging in as a guest user, please send an email to Weblog Beheer and state your username and the url of your weblog.
Our weblog interface is WordPress which is very user friendly. If you need any assistance, there are many manuals available on the internet. For instance http://make.wordpress.org/support/user-manual/ .
If you are using Internet Explorer you will find you get a certificate error. If you accept and continu, you will find you can log in.